Lake Washington Nutrient Reduction Project
Have you ever considered planting cover crops as part of your farming operation?  Or considered approaching your renters about incorporating cover crops on your land?  If so, now is a great time to take that thought a step further and give them a try! 
Blue Earth Soil & Water has partnered with Le Sueur SWCD to offer a $30 per acre per year payment for 3 years to producers that are interested in trying cover crops.  In most cases, the $30 payment will cover the cost of the seed and the seeding of the cover crop; so with this payment you can try cover crops for FREE.
Planting a cover crop is a new concept of farming for a lot of people that takes planning and defined goals to be successful.  The Blue Earth SWCD offers a variety of assistance such as; seed selection, advice on when and how to plant your cover crop, access to custom applicators, and financial assistance.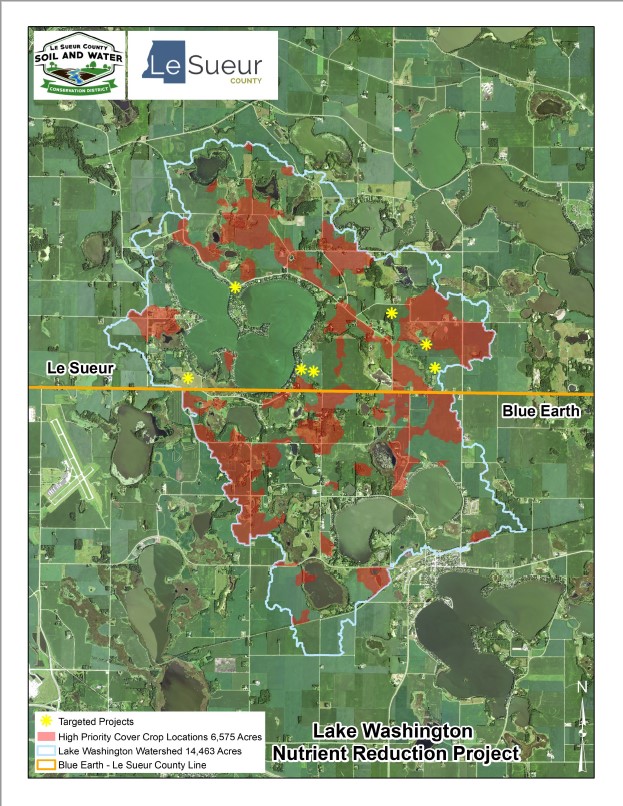 Expectations for the first year of incorporating cover crops-
Reduced erosion- Planting a cover crop reduces erosion because the field is not fall tilled and the living roots of the cold tolerant species grow late into the fall to hold the soil in place. The above ground growth also covers the soil. Overwintering cover crops will protect your soil from spring snow runoff before planting the cash crop.
Reduced compaction- Cover crops keep living roots in the soil late into the growing season. The roots act to breakup compaction. Root growth of cover crops is equal to 3-4 times the above ground growth that we see in the fall.
Reduced Tractor Time- A very common example of this is planting cereal rye into corn. If your cover crop is custom applied into corn, you will harvest your corn and be done for the year. Watch your cover crop grow into the fall, and then green up again in the spring. No-till your soybeans (In most cases a conventional planter is adequate for no-tilling soybeans) into the corn stubble and Cereal Rye, then terminate the Cereal Rye. You have just saved 2-3 tillage passes. That is time and money saved!
Expectations after the 3rd year of incorporating cover crops-
Higher infiltration rates- Rain will infiltrate the soil profile better which will reduce runoff that causes erosion. Tillage disrupts the soil's ability to infiltrate water. This will not result in wetter soils, especially in tiled ground. Better infiltration rates will allow the water to flow through the soil profile into tile lines.
Increased Organic Matter- Organic matter helps the soil's ability to store water and hold on to nutrients in the soil. Soils with higher organic matter grow better crops and are more resilient in drought situations.
Increased Soil Biology- Increased populations of earth worms and microbes will help with nutrient cycling.
These are just a few examples of how cover crops can benefit to your soil and crop production. If you have any questions about cover crops, or are interested in signing up for the program, give us a call! Now is the time to start planning!